Morrisville Centennial Library
Morrisville, Vermont
Architect unknown

Colonial Revival Style

7 Richmond Street, PO Box 727, Morrisville VT 05661

Library web site: http://centenniallibrary.org

A Brief History of the Building

1911: Andrew Carnegie gave $7,000 to the town to build the library.

1913: The building opened in July.

1960: The basement was renovated to house the nonfiction collection and provide for storage.

1982: The basement was renovated to include a children's activities room.

1984: An outside ramp was added for handicapped access.

2005: A two-story addition is planned for the rear of the building, which will double the size of the library.
2004 photo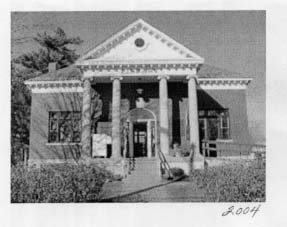 Information and this photo provided by the Morrisville Centennial Library
2005 photos